November Newsletter:
Congratulations again to everybody on a great performance in October. Please refer to my email for a digital download of the concert recordings. Thank you as well to HOPE for sponsoring the recordings.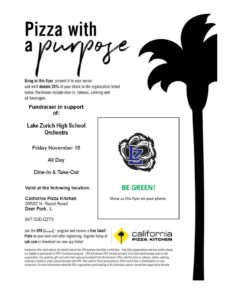 To everybody who ate at Culvers for the concert. Thank you we raised almost $70 for HOPE. Our next dining night is on November 16th. Please join us at California Pizza Kitchen. If you show this flyer 20% of your total purchase will go to support HOPE!
Important information for Upcoming Events:
ILMEA
Congratulations to our four ILMEA District Orchestra participants this year. Alex, Andrew, Ethan, and Kyle will be performing with the top musicians in the northern part of Illinois on Saturday, November 10th. Congratulations to all of them for their hard work!
Concerto Competition:
The concert competition will be held on Wednesday, November 28th. Please turn this from in no later than November 16th. All students are invited to audition and one student will have the opportunity to perform with
LZHS Symphony Orchestra. The cost is $15.
Symphony Orchestra:
Please mark your calendars for the December 5th evening rehearsal. The rehearsal is mandatory and will run from 7-9PM. This is a rehearsal to combine with winds for our first concert of the year.
Sinfonietta:
Some important upcoming dates:
Friday, November 30th– Extended Rehearsal with dinner 3:30-5:30
Monday, December 3- Performance with Choir at Symphony Center- Leave school after 6th period- see upcoming email for more information about tickets.
Friday, December 14th performance at Eco- more information to come.
From HOPE:
Please become a member of HOPE. You can register here: https://squareup.com/store/hope-orchestra-boosters